Ren Xiaolin
Born
in Beijing
,1963.
Lives and works in Beijing.
Please ask the gallery for the updated CV.
Bitte fragen Sie in der Galerie nach dem aktuellen Lebenslauf.
Pressetext - Gardens of Pleasure
Press Release - Gardens of Pleasure
Ren Xiaolin ist ein technisch versierter Maler, doch angesichts der Themen seiner Arbeiten verliert man als Betrachter das technische Raffinement leicht aus den Augen oder verdrängt es gar. Xiaolins Werk stellt eine außergewöhnliche Mischung von Fantasie, Erotik und Humanismus dar. In vielen seiner Ölbilder bilden Naturlandschaften einen verlockenden Hintergrund zu den intimen Liebesspielen und erotischen Posen im Vordergrund. Meisterhaft setzt er körperliche mit natürlichen Landschaften in Beziehung. In Das wache und trügerische Land sind – mit deutlichen sexuellen Untertönen – auf Fels gewachsene Bäume mit winzigen rosafarbenen Knospen bespickt. Drei nackte (nicht als Mann oder Frau weiter gekennzeichnete) Figuren haben es sich auf den Ausbuchtungen eines Felsens bequem gemacht und vollziehen eine sexuelle Handlung; eine von ihnen dringt in eine andere von hinten ein, während die dritte auf dem Boden liegend ein Bein der vorderen Figur mit ihrem Kopf abstützt. In Landscape No.1 lieben sich zwei Figuren vor dem Panorama einer Bergkette. Die hintere schaut sich nach einer dritten Figur um, die in der Nähe rittlings auf einer Bank sitzt, die Beine unmissverständlich gespreizt, und den anderen beiden aufmerksam zuschaut, was die Erotik des Bildes noch erhöht. In der klassischen chinesischen Literatur steht der Garten oft als idealer Schauplatz von Liebesspielen und erotischen Fantasien. Chinesische Erotika sind eine Quelle großer ästhetischer Inspiration und Lust.
Ren Xiaolin fügt den verschiedenen erotischen Geschichten seiner Werke Elemente aus der Natur hinzu, wie Felsen, Blüten, Wolken und Vögel. Diese Bilder sind an sich schon eine Augenweide und unmittelbar anregend. Jedoch sollte Ren Xiaolin als Künstler nicht dafür anerkannt werden, was er malt, sondern wie er es malt. Gesellschaftsfragen und Politik, beliebte Themen für viele zeitgenössische chinesische Maler, finden kaum Eingang in sein Werk. Er gerät auch nicht ins Philosophieren oder Fabulieren. Vielmehr stellt er normale Leute und Alltagsgegenstände dar und scheint mehr Genugtuung und auch ein gewisses Sendungsbewusstsein daraus zu ziehen, die Sprache der Ölmalerei zu ergründen. Ren Xiaolins stilisierte Bildsprache, sein Farbgebrauch und die Struktur seiner Gemälde vermitteln viel mehr als bestimmte Bilder und Vorstellungen. In Fengshui No.1 (2004) löst sich das Dargestellte beinahe auf in einzelne Farbflecke aus verschiedenen lebendigen Farbtönen, ebenso wie die Figuren, von denen eine aussieht, als sei sie durch einen einzigen spontanen Pinselstrich entstanden. In seiner Serie von kleinen Papierbildern lässt er die Landschaft ganz weg und setzt einzelne oder Paare von Topf pflanzen oder Figuren mit konvulsiven Strichen und nur angedeuteten Farben in die Mitte des Blattes Der ästhetische Reiz der Bilder Ren Xiaolins ist vielschichtig und entwickelt sich im Laufe seiner Karriere organisch immer weiter. In seinen frühen Arbeiten aus den Achtzigerjahren bilden schwere Blau- und Brauntöne den Untergrund für hellere Farbfelder und -punkte in orange, grün und rot. Sie strahlen eine massive Kraft aus. Später, Mitte der Neunzigerjahre, setzt der Künstler freundlichere Töne ein und fügt seinen Bildern unregelmäßig geformte Farbelemente hinzu anstelle der bisherigen pilzförmigen Fragmente und kieselsteingroßen Farbtupfer. Ebenfalls zu dieser Zeit erweist er Chagall die Ehre und übernimmt dessen charakteristische Farbfelder in seine Arbeiten, ohne jedoch dekorativ zu wirken.
Ren Xiaolins neuere Arbeiten (seit dem Jahr 2000) sind durch weichere Farbtöne wie zartes lila und hellgrün gekennzeichnet. Landschaft, Objekte und Figuren entstehen scheinbar mühelos allein durch die Farben, in Anlehnung an die Mogu- oder "knochenlose" Technik der traditionellen chinesischen Malerei, bei der die Formgebung ohne Skizzierung oder Konturzeichnung mit Tinte, also nur mit der Farbgebung erfolgt. Es sind relativ feine, freihändige Pinselarbeiten im impressionistischen Stil – Ölbilder, die eher wie Aquarelle sind, flüssiger, elastisch, lebhaft, transparent, gefühlvoll und ungehemmt. Von der leichten, zarten, feuchten und nebelhaften Qualität her erinnern sie an die mit Wassertinte gemalten
Landschaftsbilder aus der Jiangzhe-Region (südlich des Yangtze-Flusses), insbesondere an die "knochenlosen" Bilder des Malers Yun Nantian aus der Zeit der Qing-Dynastie. Aber auch die Schule von Venedig schwingt in diesen Arbeiten mit ihrer erfrischenden Klarheit und ihren leuchtenden Farben mit. Betrachtet man die Veränderungen der Werke Xiaolins im Laufe der Zeit, ist es beinahe so, als verfolge man die Entwicklung des Künstlers selbst, vom melancholischen Jugendlichen bis hin zu dem reiferen, liebenswürdigen und sanftmütigen Mann mittleren Alters, der er heute ist.
Carol Lu (Übersetzung Simone Schede)
Ren Xiaolin is a technically accomplished oil painter, even though the content of his work usually overshadows or even suppresses the sophistication of his technique in the eyes of the viewers. His work is an extraordinary mixture of fantasy, eroticism and humanism. In many of his oil paintings, natural scenery provides a tantalizing setting to intimate sexual acts or sexual postures in the foreground. He has ingeniously correlated a bodily landscape with a natural one. In The Alert and Illusive Land, trees grown on rocks are dotted with teeny pink buds, rich in sexual connotation. There are three naked figures, conveniently positioned on the highs and lows of a rock while engaging in a sexual act. As one of them enters into another from the back, a third one occupies a lower position to support a leg of the front one with his head. In Landscape No1, set against a mountain range, two figures are having sexual intercourse while the one in the back is turning back to look at a third figure in close proximity, who is striding over a bench, blatantly parting his/her legs and watching closely the other two in action, which intensifies the eroticism of the painting. In traditional Chinese literature and art, the garden was often depicted as an ideal setting for lovemaking and erotic fantasy. Chinese erotica are a source of great aesthetic inspiration and pleasure. Ren Xiaolin has introduced elements from the Nature, such as rocks, trees, blossoms, clouds and birds into his work as sites for all kinds of fictional erotic encounters. While these images are a feast for the eyes and provide instant stimulations, Ren Xiaolin is really a painter who should be recognized for how he paints rather than what he paints. He rarely touches upon social or political issues in his work, a popular option for many Chinese painters of his contemporary. He doesn't get philosophical or narrative either. He depicts rather regular folks and objects from his daily encounters and seems to obtain more satisfaction from and be committed to exploring the language of oil painting. Ren Xiaolin's stylized language lies in a feeling that his paintings convey through his use of colors and the texture of his painting much more than any specific imagery. In "Fengshui No1" (2004), the scenery almost dissolves into patches of colors alive with variants in shade, so do the characters, one of which appears to be done almost in one spontaneous stroke. In his series of small paintings on paper, he's entirely removed the landscape and placed figures, isolated or in pairs, or potted plants in the middle of the paper and painted them in convulsive strokes as well as inexplicit colors. The aesthetic appeal of Ren Xiaolin's paintings comes in many folds and undergoes organic evolutions in the course of his career. In his earlier works from the 1980s, there were heavy shades of blue and brown colors as the foundation on which patches and dots of brighter paints such as orange, green and red were applied. It was extremely vigorous. Subsequently, in the mid 1990s, the painter switched to a brighter tone for his work and inserted irregular-formed stretches of color into his paintings to replace his previous mushroom-shaped fragments and small rock-sized dots of paint. At this time, the painter also paid homage to Chagall by introducing his color spots into his work without appearing decorative. A softer color tone such as light purple and light green has characterized his more recent paintings from 2000. In these works, he fluently gives shape to the scenery, objects and figures in his painting simply with colors. His approach is similar to the mogu or "boneless" technique in traditional Chinese painting, in which forms were built with colors alone without ink contours or outlining. It's a comparatively fine freehand brushwork in an impressionistic manner. As a result, his oil paintings actually acquire the quality of watercolors, more fluid, elastic, lively, transparent, emotive and uninhibited. It's a light, tender, moist and misty quality reminiscent of water ink landscape paintings from Jiangzhe, south of the Yangtze River in China, particularly the "boneless" painting of Qing Dynasty painter Yun Nantian. On the other hand, there is also the air of the Venice school of paintings in this work, vivid, refreshing and lucid. From the development in Ren Xiaolin's work, we can almost observe the artist's own transformation from a melancholy youth to a more mature, gentle and peaceful middle age that he is today.
By Carol Lu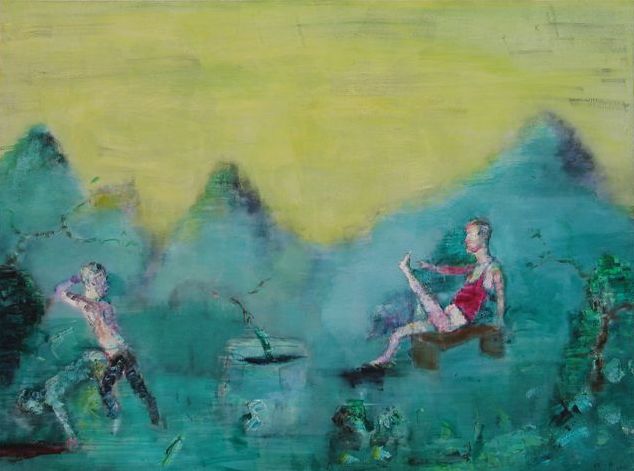 Ren Xiaolin, The Unaffected Landscape No. 5, 2003
Oil / Canvas, 150 x 200 cm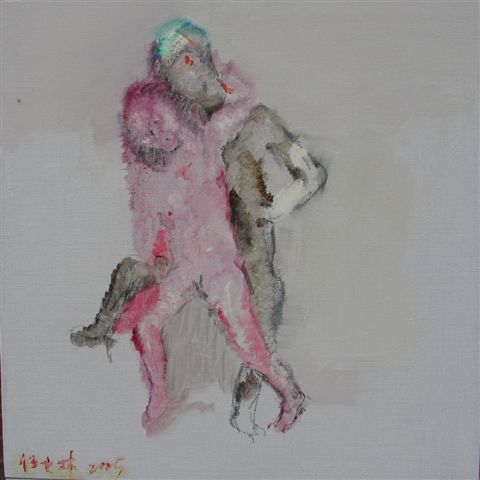 Ren Xiaolin, Paper Series, 2004
Oil / Paper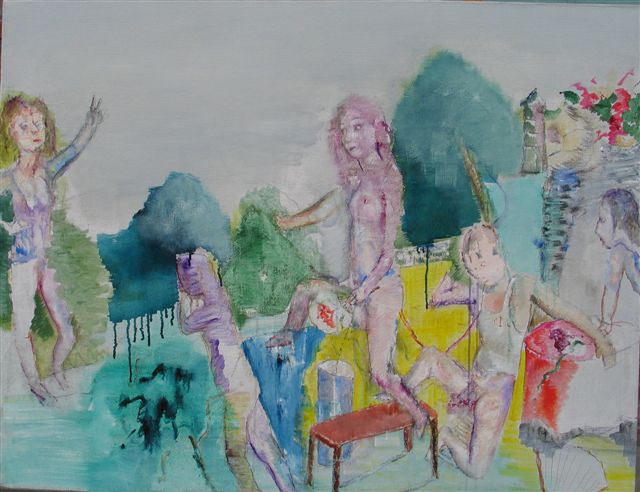 Ren Xiaolin, Paper Series, 2004
Oil / Paper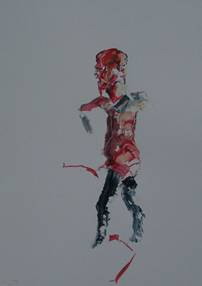 Ren Xiaolin, Paper Series, 2004
Oil / Paper, 80 x 55 cm


Ren Xiaolin - Paper Series